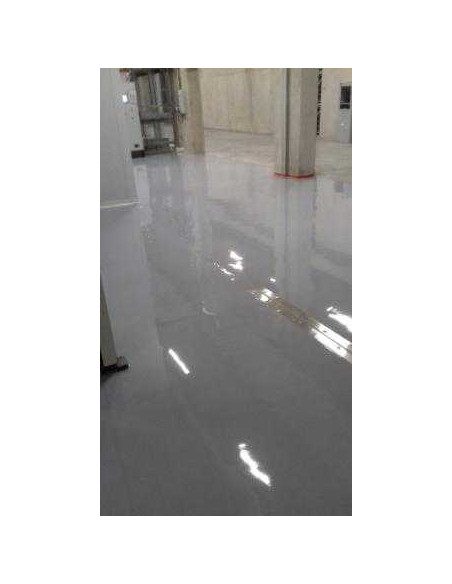 EPOXY FLOORING FOR CELLARS
Epoxy coating for cellar floors - Colours
Guaranteed Pentachlorophenol-free
Odourless and odourless
Packaging :
Kit of 12 Kg (base 4,25 kg + hardener 0,75 kg + loads 7 kg)
PRODUCT DESCRIPTION
Solvent-free, colour self-levelling epoxy coating. Repair, decoration and securing of coloured industrial floors subject to high 
USES
Repair, protection and decoration of heavily trafficked indoor floors in cellars.
ADVANTAGES
Excellent impact and abrasion resistance. Easy to use. Smooth, waterproof finish, very easy to clean. Guaranteed solvent-free. Odourless.

INSTRUCTIONS FOR USEI
Substrate preparation: Before application, the surfaces must be properly prepared to obtain sound, dry and clean substrates, in accordance with DTU 59.3.
Substrate temperature: min. 5 °C; max. 30 °C.

DEPRO
®
SOLFIX R4 VITI
 comprises a resin part (A) + a hardener part (B) + fillers (C).
Mixing ratio 12 kg kit: base 4.25 kg + hardener 0.75 kg + loads 7 kg
Apply a coat of printing:
DEPRO
® 
SOLFIX PRIM
.
Application: Mix the resin part (A) with the hardener (B) with a mechanical stirrer at low speed. Immediately add the amount of filler (C) so as to obtain a perfectly homogeneous paste. Mix well with a low speed mechanical mixer.
Application: Gradually pour the contents of the resulting mixture onto the ground.
The application is made with a toothed squeegee followed by careful debubbling with a debubbler roller to remove trapped air during mixing and avoid the formation of craters.
Cleaning of equipment: DILUANT CHOC. Mixture life: 20 minutes at 20 °C.
Drying: Light traffic 24 hours, heavy traffic and chemical contact 6 days.
Efficiency: 12 kg of
DEPRO
®
SOLFIX R4 VITI
allow to protect approximately 4 m² for 2 mm thick.


Colors

Blanc

Aspect

Brillant

Extrait Sec en Poids

98 %

Yield

12 kg protége environ 4 m² pour 2 mm d'épaisseur.

Density at 20 ° C

1,66

Packaging

12 kg

Preservation

12 months in unopened original packaging, free from frost and heat

Dur définitif à 20 °C

24 h

Séchage avant utilisation

8 jours