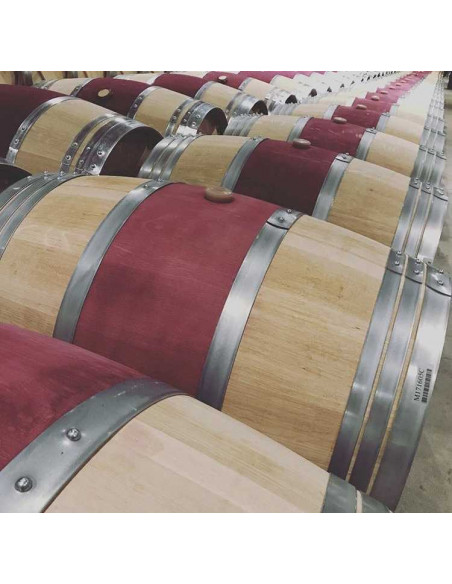 IMPERMEABLE DECORATIVE WOOD STAIN
DEPRO® LAZUREX LIE DE VIN
"Wine-red"

Special for bung area

Free from pentachlorophenol

Leaves wood grain visible

Quick drying Odour-free Satin finish
PRODUCT DESCRIPTION
New generation high-protection wood stain with high binder content. Allows to mask and limit stains on barrels. In aqueous phase, DEPRO®LAZUREX VITI "WINE-RED" is free from contaminating olfactory nuisances. No chlorine emissions.
Water-repellent to ISO 2812-3 Standard.
In compliance with HACCP* practices. In compliance with the "Good Hygiene Practices for the Wine Industry" Guide. In compliance with practices outlined in EU Regulation n°852 of April 29th 2004 on the hygiene of foodstuffs.
Research and Development / Scientific Input
VECT'OEUR Laboratory- Certificate of Analysis N°CA10030335/6.
Analysis of HALOANISOLES, HALOPHENOLS and ORGANOHALOGENIC active ingredients.
DEPRO®LAZUREX VITI "WINE-RED" is recommended for the protection of bung area.
Allows to mask and limit existing stains.
Contributes actively to environmental protection and avoidance of occupational hazards.


ADVANTAGES
         Free from pentachlorophenol

         Leaves wood grain visible

         Quick drying Odour-free Satin finish

         Easy to clean
INSTRUCTIONS FOR USE
DEPRO®LAZUREX VITI "WINE-RED" should be applied to wood that is dry, clean and free from loose particles. Application temperature: 12°C-25°C
DEPRO®LAZUREX VITI "

WINE-RED"

is ready to use when the liquid has a semi-gelified appearance.
Stir well before and during use. Apply using a paintbrush or roller.
2 or 3 coats according to the state of surface and some tint wished. Wash utensils using water.
"WINE-RED" shade, other shades on demand.
Colors

Lie de vin

Aspect

Satin

Extrait Sec en Poids

50 %

Yield

8 à 12 m²/l

Density at 20 ° C

1

Packaging

1, 5 et 15 l

Preservation

12 months in unopened original packaging, free from frost and heat

Séchage

30 min

Recouvrable

3 h

Dur définitif à 20 °C

12 h
Customers who bought this product also bought:
Customers who bought this product also bought: